The UTMB course is like a fairy tale, circumnavigating Mont Blanc on pristine alpine trails surrounded by massive glaciers and 12,000 feet of sheer relief. This fairy tale will shred your quads and reveal your sole, though, and many runners will miss the coveted finish line in Chamonix.
The course is so big and epic that it is hard to describe or wrap your head around.
UTMB FINAL 106-MILE COURSE OVERVIEW
Start to Contamines – 31.2km (19.3 miles) / +1,580m (+5,187 feet)
For a mountainous course, this section is screaming fast. While you still climb over 1,500m (5,000 feet), the route is extremely runnable with minimal technical sections. The ascent and descent of Delevret are steep but mostly on wide ski trails, dirt roads, and even paved roads.
Contamines to Courmayeur – 50.1km (31.0 miles) / +3,019m (+9,905 feet)
This section doesn't get enough credit for its difficulty. Even by itself, this would make for a burly 50km with over 3,000 meters (~10,000 feet) of climbing through remote mountains.
Four significant high-altitude passes over 2,400m (7,900 feet), and the terrain turns much more rugged and technical. The third pass, Col des Pyramides, was added to the course in 2015 (though skipped in 2017 & 2018 due to bad weather) and is by far the most technical part of the course. Staying upright on the steep descent over loose scree and talus is difficult. This is the highest altitude part of the race, and most of it will be covered by night. If that all wasn't enough, the final section of the descent into Courmayeur is the steepest of the race.
Courmayeur to Champex-Lac – 45.4km (28.1 miles) / +2,720m (+8,924 feet)
The bulk of the climbing on this section comes in two brutal ascents, from Courmayeur to Bertone and ascending the Grand Col Ferret.
There is a significant amount of runnable terrain on this section, but that is easier said than done after the punishing climbs and with over 80km (50 miles) on your legs.
After cresting Grand Col Ferret, you descend straight for a whopping 20km (12 miles). The first part of this descent is quite technical, following narrow and uneven cow paths through alpine terrain.
Towards the end of the descent, this lower altitude section can be exposed and hot during the day.  Many runners also miss that there is a significantly steep climb from the valley up to the major aid station at Champex-Lac.
Champex-Lac to Chamonix – 27.9km (27.9 miles) / +2,741m (+8,993 feet)
The race saves the steepest part for last with three monster climbs and descents, each tougher than the last.
Some runnable sections are coming out of Champex-Lac and Vallorcine, but most of this section is steep and technical. There is nothing quite like coming out of Col des Montets and looking up the sheer vertical face of the Tete aux Vents climb.
The only saving grace is that you will start feeling the pull to the finish and the joyous arrival in Chamonix.
UPHILL ATHLETE TRAINING GROUP
join the community
WHY IS THE UTMB COURSE SO HARD?
The UTMB course has many unique aspects that make it even harder than it looks on paper.
BACK-LOADED COURSE
Courmayeur is often referred to as the halfway point, but one of the first things I tell someone about UTMB is that it most definitely is not.
Courmayeur to the Finish is 10km (6 miles) longer than the Start to Courmayeur. It is also steeper per mile, particularly from Champex-Lac to the finish, which is 18% steeper than the first 80km / 50 miles.
This makes pacing so important. It is challenging to manage your effort in any long ultra and not fade towards the end. This is even more the case at UTMB, and it takes serious discipline not to arrive at Champex-Lac ready to lay down and have a good cry!
In the 2019 UTMB, I benefited from previous course knowledge and could pace it perfectly. I was way back in the field at Les Houches, Saint Gervais, and Contamines, with runners charging by me in these early miles.
I played the long game and steadily moved up the field. I arrived at Champex-Lac ready to drop the hammer as I moved inside the top 75 overall finishers, and no one passed me to the finish.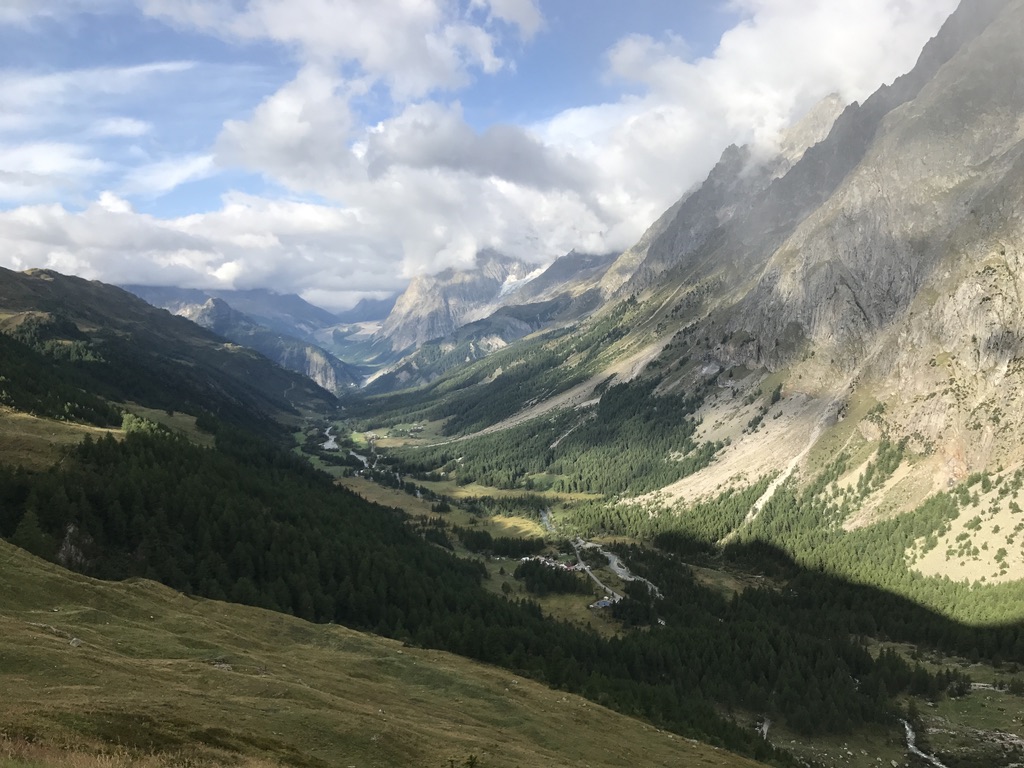 SIGNIFICANT RUNNABLE SECTIONS
For a race with 10,000m of vertical, there is a surprising amount of fast, runnable terrain at UTMB. Over 50K (30+ miles) is runnable, non-technical, and fast.
The first 8km to Les Houches, the 10km from Saint Gervais to Contamines, much of the long descent off Grand Col Ferret, and the gentle uphill from Vallorcine to Col des Montets are all extremely runnable.
The section from Refuge Bertone to Arnouvaz is a true highlight of the course. Runners stay up at 2,000 meters (6,500 feet) on this gently rolling ribbon of the trail overlooking Monte Bianco and the Val de Ferret. On fresh legs, this is a fast trail running at its finest. However, with 85km (55 miles) on your legs, it is all too easy for this to become a slow trudge.
To succeed at UTMB, you need not just be a mountain goat and intersperse big climbs and descents with serious running.
ALTITUDE
The average elevation of the UTMB course is 1,740m (5,700 feet). This is more than enough to impact performance. Still, because it is not an extreme altitude race like Hardrock or Leadville, many athletes come from near sea level with minimal altitude adjustment.
Multiple high-altitude passes exceed 2,500m (8,200 feet), and significant time is spent above 2,000m (6,600 feet). Climbs get steeper as you go up, so the higher altitude sections frequently correspond with the steepest trails. 
WEATHER
Temperatures can range from -5 C (20 F) to 35 C (90+ F), sometimes within the same race!
Nights can be cold on the mountain passes, sometimes with snow or freezing rain. Daytime in the valley can be swelteringly hot, with exposed sections of the course baking in the sun.
RACE ATMOSPHERE
Part of what makes UTMB so special is the unparalleled crowd and community support. Spectators line the course four people deep as you run through the towns. Coming down the first big climb, you can hear the crowd's roar in Saint Gervais from thousands of feet above.
Supporters hike thousands of feet up to cheer on runners. It isn't uncommon to have crowds of people swinging giant cowbells atop a mountain in the middle of the night.
While part of the joy of UTMB, this lively atmosphere can contribute to going too hard too early, especially in the course's first 30km (20 miles).
LONG, STEEP, NON-TECHNICAL DOWNHILLS
While many fear the steep uphills the most, the downhills are what will get you.
UTMB has many 1,000m-1,500m (3,000-5,000 feet) descents at 20%+ grade that are primarily non-technical.
Most runners don't have access in training to descents this long and steep. Trails this long and steep is also typically more technical, which results in a different pace and different stresses on your body.
Blasting down steep, runnable, long downhills creates substantial impact forces. Many runners blow their quads early in the race on these downhills. In my first UTMB, my quads were gone for the last three big descents, and I was forced to walk downhill painfully.
Quitting the race at the top of a climb is extremely difficult. You are typically on top of a mountain; your only exit is either by foot under your power or by helicopter. No matter how challenging the uphills are, you have no choice but to keep going.
The risks come with the downhills. The descents spill you out into a town and major aid station. With shaking quads and the comforts of civilization, this is when you will be tempted to pull the plug. You must manage your pace on the downhills and maintain your mental game.
The UTMB course is unique in its beauty, atmosphere, and challenges. The key to success is knowing what you are in for and tailoring your training, mental preparation, and race plan appropriately. And don't forget to stop and take a few pictures to memorialize the trail running fairy tale!
1:1 Coaching
Personalized and direct accountability for your training